"I am truly amazed by myself." Those words were the perfect ones to express how happy I was when seeing a picture of myself at the exhibition row of Plaza Indonesia. Never once in a lifetime I'd thought to be one of the chosen inspirational icons of the most luxurious and prestigious lifestyle mall in Jakarta.
Earlier last month, one of my friends called and asked me to be photographed for Plaza Indonesia's 25th Anniversary. Of course, I said yes. Yet I reminded him that I was three-month pregnant that time.
Long story short, the day for me to be photographed had come. The photo session was a total fun for I was photographed by my talented friend, Shadtoto Prasetio, also I got a kind and helpful team that day.
Just a month after the shoot, I was informed that my picture was already shown at the mall and would be there until the late of March.
My husband and I went to Plaza Indonesia to see the picture. And the moment I saw my huge picture displayed at the hall of the mall, I couldn't express anything but amazement to what I'd achieved. It took a long time for me to stand in front of the picture and collect myself to believe that the picture was real. That it was me inside the picture. I rubbed my baby bump whilst hoping that my baby would be proud of me, just like my husband did, and always do.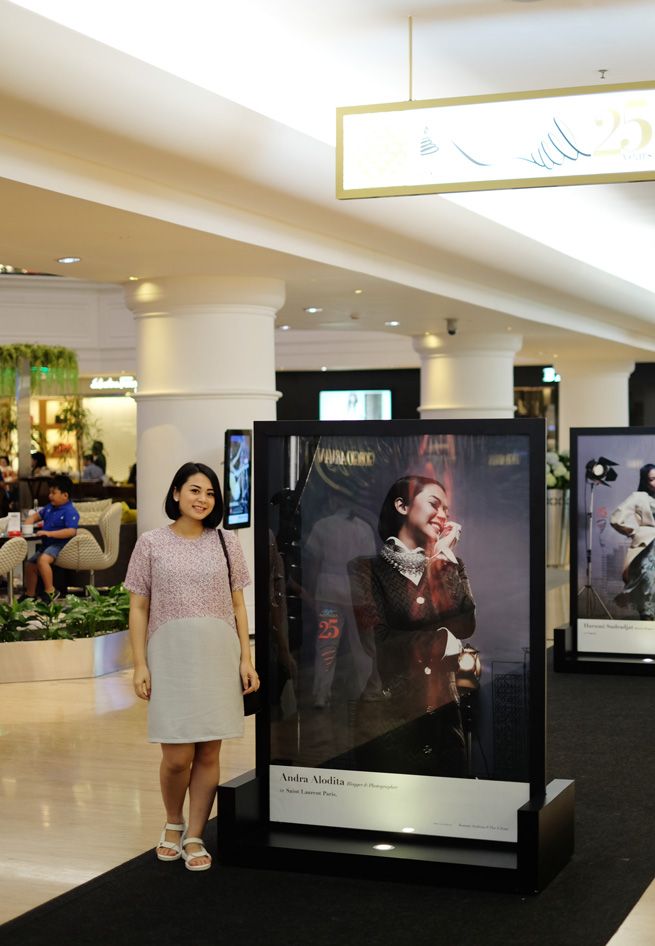 To a lot of people, the picture is merely about me posing for the sake of being displayed at Jakarta's luxurious lifestyle mall. But to me, the picture is more than just posing. You probably would never know that when I gazed at the picture, what came to my mind were my childhood memories, where I used to get bullied at school. I had no friends because people thought I was weird. I also remember those days when my mum used to worry about my grades at school for I was never the brightest one. Everything didn't stop there. When I got older, people tended to underestimate my job since mine wasn't like other people's common job.
I used to think that I wouldn't be able to be successful for the 'differences' I had, until I realised that doing things that felt right to me was always the right thing. And here I am now..
To all of you who are currently reading this post and struggling for something, I just want to remind you to never ever give up. Always fill your day with smile and positivity. Don't ever stop being thankful for everything that you have, even the smallest ones.
Be your own unique self and stop wishing to be and comparing yourself to someone else. Good luck!