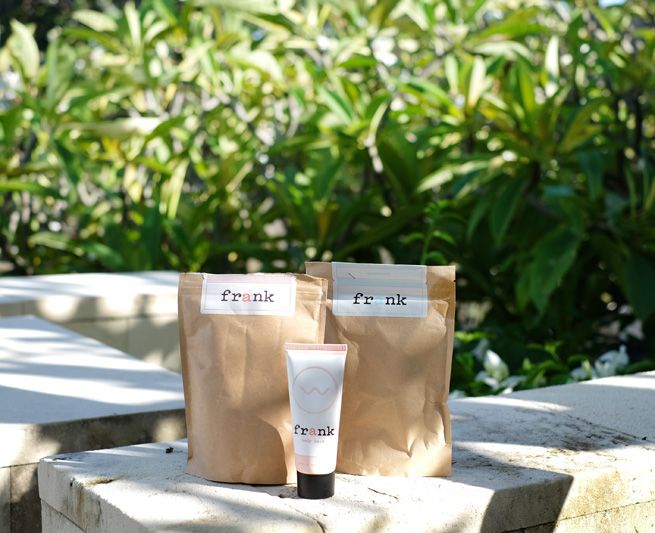 Aku baru tau kalau scrub ini lagi
hype
banget yah di
social media
, karena aku taunya udah lumayan lama dan menunda-nunda untuk nulis review karena aku agak gak percaya dengan efek pertama kali pakai coffee scrub dari Frank ini.
One word, AMAZING
. Awalnya aku gak terlalu tertarik, sampai aku liat
Harumi
mereview produk ini di Instagramnya. Seperti biasa, apa yang Harumi bilang bagus, hampir 99% cocok sama aku (tapi belum tentu cocok semua orang loh ya).
ORIGINAL COFFEE SCRUB
I started using this because I heard it helps fade acne scarring, keloid scar and stretch marks.
Secara bekas jahitan
laparatomy
aku sekarang jadi keloid dan menghitam, jadi coba aja deh siapa tau bisa membaik. Kesan pertama waktu liat packagingnya, hmm praktis juga ya cuma begini aja. Packagingnya terbuat dari
paper bag
, praktis banget dan ada
reaseable zip
di atasnya. Pas aku buka, aroma kopinya cukup kencang karena memang terbuat dari
roasted and ground robusta coffee beans
.. Tapi wanginya
fresh
juga karena memakai
natural orange essence
. Aku selalu pakai pas mandi (setelah sabunan), pertama aku pakai di kulit rasanya biasa aja. Gak ada rasa-rasa apa pun. Aku tunggu sampai 5-10 menit sebelum dibilas sambil memijat bagian tubuh yang discrub.
Begitu bilas badan dengan air, ini dia efek yang aku tunggu-tunggu dan bikin surprise! Kulitku berasa lebih
smooth
,
soft
, dan sedikit licin karena sisa-sisa
sweet almond oil
yang terkandung di dalam
scrub
. Setiap kali aku
scrubbing
aku selalu pakai dari mulai muka sampai kaki, jadi bener-bener satu badan.
I love it because it feel AMAZING.
PEPPERMINT COFFEE SCRUB
Sebenarnya Peppermint Coffee Scrub ini gak jauh beda sama Original Coffee Scrub. Tapi Peppermint Coffee Scrub fokusnya untuk meremajakan kulit. Cocok banget untuk kamu yang otot dan badannya lagi super capek atau nyeri-nyeri, karena wangi peppermint oilnya bikin rileks dan memberikan
cooling effect.
ORIGINAL BODY BALM
Di post-post sebelumnya, aku udah cerita kalau kulitku lagi kering dan gatal terutama di bagian kaki dan siku. Aku nyoba Body Balm ini karena mengandung tiga natural oils yaitu: coconut, grape seed dan sweet almond. Langsung dong aku tertarik! Awalnya aku kira ini agak sedikit kasar-kasar seperti
scrub,
setelah dioleskan ke kulit ternyata
scrub
kecil-kecil menghilang dengan sendirinya. Yang aku rasain sih, bener-bener bikin kulit aku lembut dan terawat (padahal waktu itu baru sekali pakai). Ya mirip-mirip sih kayak pakai body oil di kulit, tapi Body Balm ini lebih awet aja.
Tips: untuk cuaca seperti di Indonesia, lebih baik pakai body balm ini setelah mandi sore atau malam sebelum tidur. Karena kalau kena panas/keringet, rasanya kayak agak meleleh. Tapi ini
must have
item
kalau memang kulitmu cenderung kering.
Is it worth the hype?
Yes! It's a must have item for me, especially the coffee scrub.
Is it safe for pregnant woman?
It is safe to use whilst pregnant however please consult your doctor before you begin scrubbing. Click here to read more.
Where to buy?
Aku pesan di
@benscrub
+62 878 848 22 290