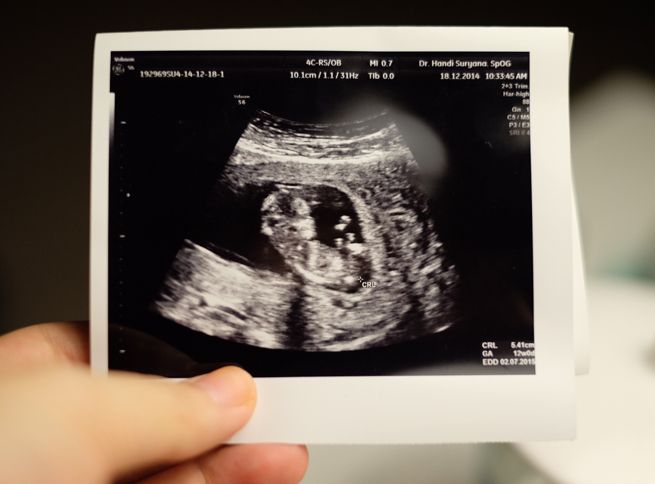 Finally, the wait is over! To all of you who were frequently asking me how's my IVF result—and speculating that I'm pregnant already by looking at the over-sized outfits I was wearing—and sorry I'd never given any answer 'cause I didn't feel comfortable by the questions—through this blog I announce that I'm 12 weeks pregnant! Hihihi
After years of struggling from appendix adhesions, having several surgeries and taking
IVF program in Penang
, the efforts we made have paid off. Nothing in this world could express how joyful and relieved my husband and I are. Sometimes when I looked in the mirror, I still couldn't believe that my baby bump is getting visible day by day. That made me so speechless!
It's true that Abenk and I planned to not telling anyone about this pregnancy as soon as the doctor gave me the blood test and my first Ultrasound result. I had my own reasons for that, I was afraid that what I had was only a fake pregnancy, and I also felt insecure to tell people that early. I didn't want to get hundreds of "Congratulations!" whilst I hadn't known yet whether the baby inside my tummy grew or not. I also didn't feel comfortable when some people asked me how was my IVF result, you know, it's such a privacy..
So, I decided to announce the news after my pregnancy hits 12 weeks. Sorry not sorry if
I stayed silent
. Actually, I didn't think that I'd share this news on this blog, but I made up my mind. I know that many women out there are struggling to get pregnant, and I believe by reading this post they would be inspired to go for a pregnancy program :)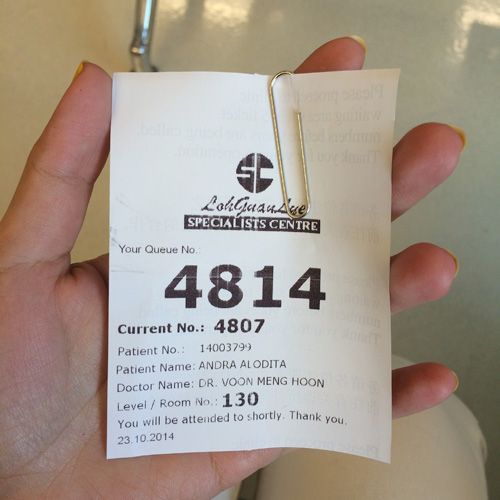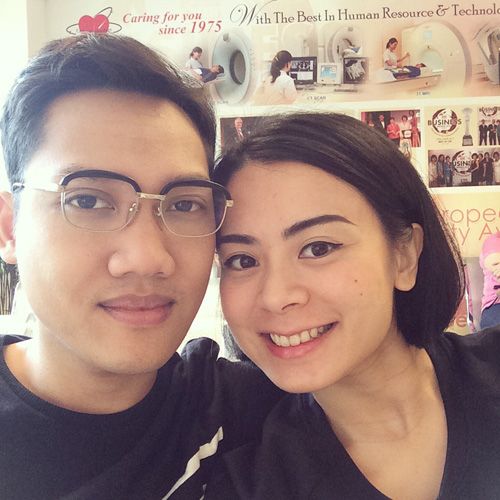 SELFIE AFTER BLOOD TEST
Let me start the story from the time I finished the
2-Week Wait
. So, Dr. Devindran told me the next time I went to the hospital for Beta hCG test, he wouldn't be there. Instead, I was asked to meet his wife who's also an obgyn, Dr. Voon Meng Hoon. I'd never knew that Dr. Voon is his wife!
Long story short, I'd done the test around 9 o'clock in the morning and waited for the result to come out at 12 PM. As long as I waited for the result, my stomach didn't feel good at all—blame it to my nervousness—and it became worse when the nurse called my name. She suddenly said, "Hi Andra, I'm going to get your blood test result. And by the way, Dr. Devindran is currently in his clinic, so you're going to meet him later."
Shortly after she left, I sat down in a total anxiety thinking why did Dr. Devindran come to the hospital when he said he wouldn't be there. Not long after that, he passed my husband and I in a sudden rush, smiling. Ten minutes later, he came back and said, "Andra, please come" whilst gesturing us to follow him to his clinic. If you're wondering what I was doing there, I actually did nothing but faked a calm expression. It was hard to concentrate and think of anything during my nervousness.
Dr. Devindran
finally see test result, and before he came to the result, he explained that the reason he was there in the hospital was due to an unscheduled surgery he had to done. And there he was, saying that another reason he came to the hospital was to tell me a good news,
"Congratulations, you're pregnant!"
AAHHH, I felt a sudden need to pee. I was soooo surprised yet excited that I could do nothing but laughing and hugging my husband!
That was a total happiness.
The doctor and nurse send their huge smile to us, and before we went out, we gave Dr. Devindran a hug and a huge thanks. Although we hadn't been able to see the Ultrasound result that time, we were more than happy to know the blood test result. We finally went back to our homestay in a joyous ambience.
OUR FIRST ULTRASOUND SCAN. HELLO JELLY BEAN!
Two weeks later, I went back to
Loh Guan Lye
Hospital to do my first Ultrasound. That day Abenk and I got to see the fetus's flickering movement in the monitor. There's a baby inside my tummy! To celebrate my pregnancy, that night we had dinner with Dr. Devindran, his wife and his two children, and the nurses, Mei and Jennifer. It was an amazing and memorable night to us. I'd never met a doctor as nice, patient, and supportive as Dr. Devindran. Just like what I've said before, Dr. Devindran loved to give us encouragement to make us stay positive and thankful to God.
Before we left, we didn't forget to ask Dr. Devindran for an obgyn recommendation in Jakarta. He recommended us to visit
Dr. Handi Suryana
, he said that many of his patients continue their visit to Dr. Handi. Pretty soon after we arrived in Jakarta, we browsed a lot of information about Dr. Handi before we finally ran into this
blog
. The clinic was quite far from our house in South Jakarta, but that didn't stop us from giving it a try.
Our first visit to Dr. Handi was very pleasing and comforting. He's very friendly, informative and willing to give his personal phone number to his patient. When we told him the story before I finally got pregnant, he said that I was lucky to succeed the IVF program only from one-time cycle, which was a rare thing. That day, Abenk and I came for Ultrasound, Dr. Handi told us that our baby looked healthy and he/she had a good heart rate.
The second visit, which was previous Thursday, was more than pleasing than before.
I told
Dr. Handi
that I didn't experience major nausea during these 12-week pregnancy and he did wonder—just like many people did—why such thing happened! But deep down in my heart I was so thankful to God for not letting me 'suffer' throughout this pregnancy. During this visit, Abenk and I could see our little baby kicking and moving through the monitor. Doctor also added that his/her reproductive organ has begun to develop. Since there were many flickering movements as if he/she wanted to show his/her existence to us, I couldn't resist to ask Abenk to record the monitor! That moment was too precious to not to be recorded.
The first thing I did after I went out from the clinic was sending the video to Dr. Devindran. And shortly after that, Nurse Jennifer texted me via WhatsApp telling that she'd already seen the video. Well, Jennifer wasn't the only one who was excited about my baby. My family was way too much excited about my pregnancy that they became somewhat protective.
God has given me this little precious gift, so now it's my turn to give my best to protect it. Every night I thank Him for giving me happiness after the struggles I've been through. I am beyond happy enjoying this pregnancy! :D
So, here's where the story ends and I'm going to give a few thoughts of mine on IVF to those of you who are curious:
Should I do IVF? It's a personal decision that I couldn't help to answer. Discuss it with your family. One thing that you should know that IVF is not a 'death sentence', you don't have to be over-worrying. If I can do it, you can do it, too! :)
What steps should I take before IVF? It depends on the physical condition of the couple. Every condition has its own different procedure, so you'd better consult this to a doctor.
How much is the percentage of IVF success? 30%. This is a realistic number. The IVF result totally depends on the woman's physical condition, egg quality and man's sperm.
Was it painful? I heard that it was painful, and expensive, too! It doesn't always work that way. To be honest, I didn't feel any pain during the treatment but bloated and nauseous. The injections that were rumoured to be painful also didn't hurt at all. Speaking about the cost, it was WORTH the money; and for additional info, doing IVF in Penang costs less money than in Jakarta.
How much it cost? For the treatment I spent RM 15.000.
How many embryos needed for IVF? This depends on the woman's age. My doctor suggested to transfer two excellent-quality embryos for me.
Do you recommend to do IVF program at Loh Guan Lye Specialist Centre under Dr. Devindran*? 100% yes! There I met the amazing doctor and nurses that helped me a lot.
Any tips for IVF success? First, you've got to have good intentions. Second, pray a lot and do your best to succeed the program. The rest will be in God's hand. If He hasn't given the answer to your prayer, never forget that He will always give the best answer in the best time. Don't ever lose your hope and always stay positive!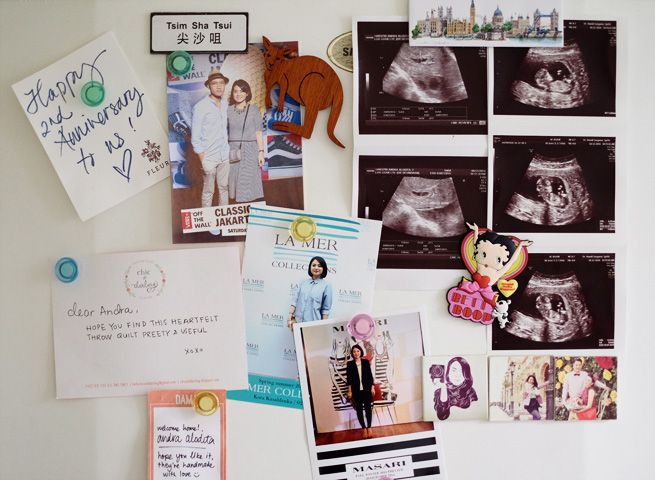 I just want to thank all of you who support my husband and I, and never stop sending good wishes to us that God's finally granted. We cannot thank you enough for the endless support, and of course, we cannot wait to welcome our little angel to this world. I believe that if we fight for what we believe in, we'll soon achieve what we want. I wish you the best for you who are doing pregnancy program or waiting for the birth of your baby.
To end this post, I want to quote the beautiful lyrics that my husband sings
in his first album
,
"Selamat datang perubahan. Sebuah dunia tercipta di impian. Perjuangan berbuah kenyataan. Selamat datang perubahan."
*You can contact Dr. Devindran directly to
mdevindran@gmail.com
Read more:
Life after both of my fallopian tubes removed.