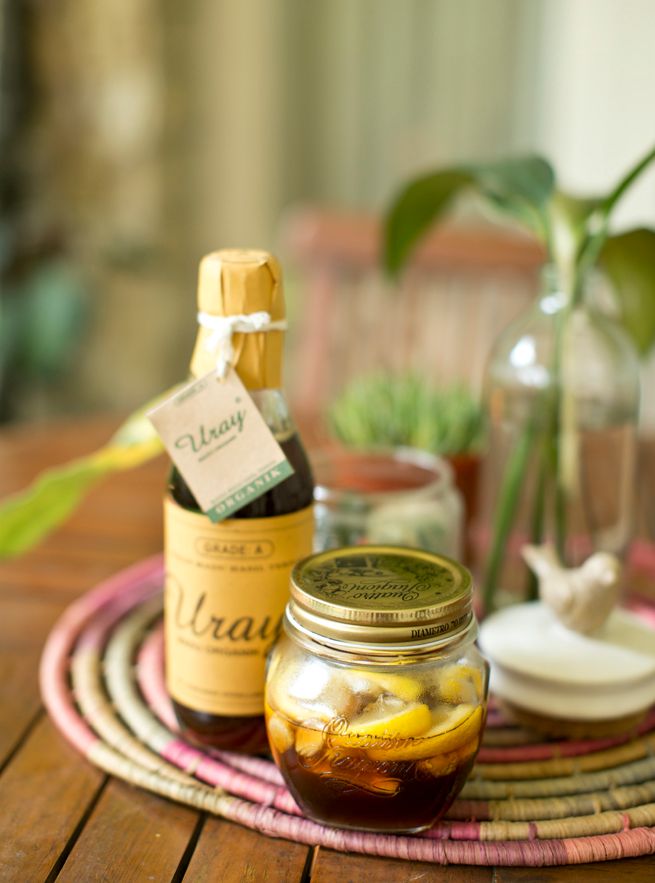 Jadi ceritanya, aku lagi mau "tobat" minum obat flu. Soalnya aku dulu sebelum mengkonsumsi
honey-lemon shot
dan pas masih tidur pakai AC, sering banget flu dan gak mau susah - alias kalo bersin-bersin/gak enak badan sedikit langsung minum obat flu. Akhirnya aku sadar kalau obat dengan apa pun yang kimia-kimia itu gak bagus buat tubuh, selain itu, siapa sih yang mau sakit? Setelah
honey-lemon shot
aku mulai browsing-browsing dan akhirnya ketemu deh sama obat flu natural - yang sebenarnya udah sering aku dengar tapi aku dulu gak peduli HAHAHA. Pagi ini aku buat lagi
honey-lemon-ginger syrups
untuk suami aku yang tiba-tiba mendadak mau flu.
Alhamdulillah, habis dicekokin sirup ini dan berbagai macam makanan anti-flu suamiku membaik. Aku juga simpan sirup ini di botol kecil supaya bisa dibawa-bawa suamiku.
Cara membuat sirup ini gampang sekali kok. Resepnya ada di
theyummylife.com
dan
lanascooking.com
.
Kalau sedang flu, aku konsumsi sirup ini sebanyak 1 sendok makan setiap 3-4 jam. Voila! Ternyata cukup ngaruh di tubuh aku, lumayan cepat sembuh tanpa harus dibantu dengan obat flu/dokter.
Untuk madunya, aku pilih
Madu Uray
yang memang selama ini aku percaya untuk membantu menjaga stamina tubuh aku. Selain berguna untuk tubuh kita, darah dll, aku juga baru sadar kalau
Madu Uray
bisa memperhalus kulit kalau dikonsumsi rutin! (hahaha teteup) Selain itu aku sarankan untuk mengkonsumsi madu lokal dari negeri sendiri ya, karena pastinya produk lokal lebih bagus untuk tubuh kita. Yang mau pesan Madu Uray bisa e-mail ke
info@madu-uray.com
.
Thanks for reading! :)

Disclaimer: I'M NOT A DOCTOR and I'm not giving any medical advice here. All opinions and thoughts on everything featured on this blog are entirely my own.