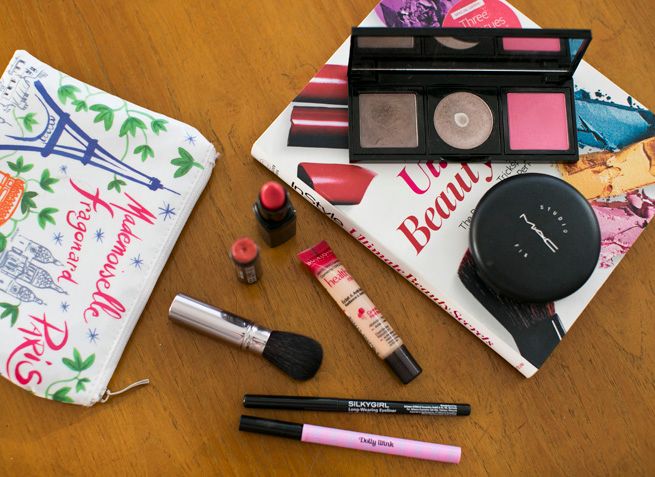 Iseng-iseng bikin post tentang
"What's in my makeup pouch?"
karena aku selalu gonta-ganti makeup setiap 1-2 minggu sekali. Kenapa ganti-ganti? Karena maunya sihhhh semua koleksi make-up aku terpakai semua & ngga ngebosenin diri sendiri (kesannya makeupnya buanyakkkk padahal sih itu-itu aja hihihi).
What's in my makeup pouch this week?
Tema makeup minggu ini adalah 'no makeup' makeup karena terinspirasi oleh Hari Raya Lebaran. Selain itu beberapa hari setelah Lebaran, mata kiri aku bengkak selama 3-4 hari karena efek PMS. Sekalian biar kulit wajahku 'puasa' dari makeup sementara hehehe..
Bourjois Healthy Mix Correcting Concealer in Medium Radiance
Aku tergiur beli concealer ini gara-gara lihat blognya
Essie Button
. Surprisingly, I like this concealer! I like the packaging karena bentuknya tube, jadi tetap higienis. Untuk daya tahannya sih cukup ok untuk dipakai sehari-hari.
Dolly Wink Eyeliner
I can't live without this eyeliner! Repeat, I can't live without this eyeliner! I can say this is the best eyeliner I've ever had! Susah banget cari eyeliner yang tahan banting walaupun dipakai berjam-jam, ngga bleberan dan ngga luntur walaupun
eyelids
aku berminyak banget. Yang jelas produk eyeliner yang aku pakai harus selalu ON walaupun aku lagi motret seharian (ya iya lah kan kena-kena ke view finder kamera). Untuk aplikasi, eyeliner ini termasuk gampang banget dipakai karena aplikatornya gampang digunakan untuk garis yang tipis maupun tebal.
Silkygirl Long Wearing Eyeliner in 01 Black Black
Yes, ada dua eyeliner di pouch aku. Karena eyeliner Dolly Winknya udah mau habis *hiks hiks* jadi sebelum habis beneran aku punya stock satu lagi!
Burt's Bees Tinted Balm in Hibiscus
Kenapa ini ada di pouch ya? *lupa* Aku ngga pernah suka lip balm tapi aku jadi suka karena Burt's Bees Tinted Balm ini enak banget dan selalu menolong bibir aku yang kering.
Bobbi Brown Palette – Shimmer Wash Eye Shadow in Stone 6, Rich Color Eye Shadow in Sand Dune 1 & Blush in Pretty Pink
Aku punya 2 jenis palette kosong Bobbi Brown, jadi aku bisa tukar-tukar eyeshadow atau blush on setiap saat. Kali ini aku pakai eyeshadow yang warnanya natural - pakainya tinggal diusapkan pakai jari manis aja kalau mau pergi.
MAC Studio Fix NC35
Pressed powder ini hasil belanja karena ikut-ikutan
Lizzie Parra
hahaha.. Di setiap photoshoot Lizzie selalu pakai pressed powder ini untuk touch up klien atau modelnya, jadi aku ikutan beli. Aku cocok banget pakai bedak ini karena mau makeup tebal atau tipis, bedak ini selalu mengcover wajahku dengan baik.
Mademoiselle Fragonard Paris Pouch
Aku dapat pouch ini waktu beli parfum di Fragonard Paris. Pouch ini sebenarnya kecil tapi cukup muat banyak untuk makeup sehari-hari aku.
Armando Caruso Compact Blush Brush
I only use one brush for touch up, because I'm very simple ;)
Have you used any of these products? Or would you like to use any of these products? :)