Aku udah mau review produk-produk ini dari liburan Lebaran kemarin tapi karena lagi agak hectic, baru sempat nulis sekarang hihihi. Aku dapat paket '
Ramadan Feast for Skin - Rose Edition
' ini langsung dari Nadya, CEO & co-founder dari Wangsa Jelita. Kami kenal satu sama lain dan berkomunikasi via Whatsapp, walaupun belum pernah berkenalan langsung, tapi aku sama Nadya cukup sering sharing soal
beauty
dan kesehatan.
Mungkin ada yang ingat, aku juga pernah review salah satu produk andalan dari Wangsa Jelita yaitu
Relaxing Lavender Beauty Oil
yang sampai saat ini aku pakai hampir setiap malam - bergantian dengan
L'Occitane Almond Supple Skin Oil
.
Kenapa aku tertarik dengan Wangsa Jelita?
Simpel aja, karena ini adalah karya anak bangsa. Kedua, produk-produk Wangsa Jelita adalah produk yang natural.
I'm very proud of Wangsa Jelita!
LOVELY NOTES FROM NADYA, CEO & CO-FOUNDER WANGSA JELITA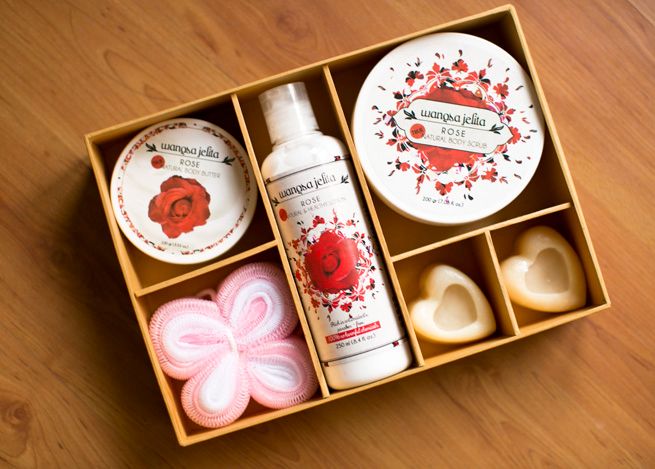 Dalam box spesial ini terdiri dari:
2 Rose True Natural Soaps (40 gram)
1 Rose True Natural & Healthy Lotion (250 ml)
1 Rose True Natural Scrub (200 gram)
1 Rose True Natural Body Butter (100 gram)
WANGSA JELITA ROSE NATURAL BODY SCRUB
Dari semua produk yang ada di box ini, favoritku adalah
Rose True Natural Scrub dan
Rose True Natural & Healthy Lotion. Kalau untuk scrub, it smells really good dan habis dipakai kulit aku jadi lembab banget - karena beberapa scrub yang aku coba, malah bikin kulit aku jadi kering. Oiya, kadang aku malah suka mandi pakai body scrub aja loh, ngga pakai sabun hehehe. Untuk body lotionnya, I loooooove it because it keeps my skin smooth and hydrated - it absords fast and doesn't leave a sticky or heavy feeling on my skin.
Too bad,
Rose True Natural Body Butter-nya
menurut aku kurang memuaskan karena bisa dibilang, seperti gak ada bedanya dengan
Rose True Natural & Healthy Lotion
- dari segi tekstur, wangi dan hasil. Overall, aku suka semua produk Wangsa Jelita dan akan
repurchase
relaxing beauty oil
-nya karena punyaku udah hampir habis hihihihi
Ada yang pernah coba produk Wangsa Jelita? Please let me know what you think :)
Disclaimer: All opinions and thoughts on everything featured on this blog are entirely my own. People can be allergic to anything. I recommend that you patch test your skin the first time you use any of products. If any adverse reaction occurs, discontinue use immediately.