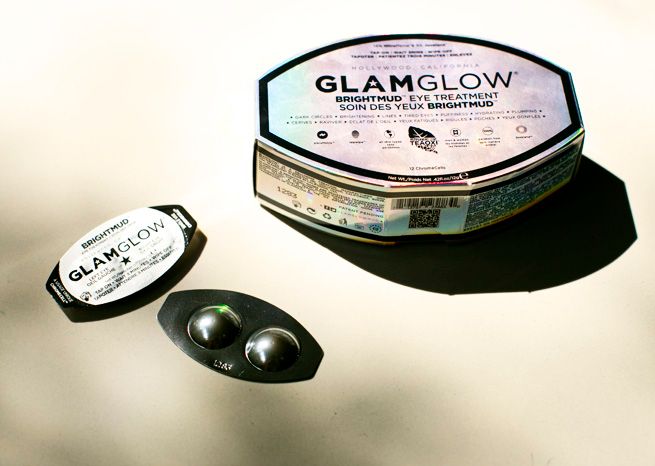 Jujur aja, ini produk GlamGlow pertama yang aku punya (hahaha basi banget ya!) dan pertama kali liat packagingnya.. I was like WOOOOOOWWWW.. Akhirnya punya juga!
Karena aku gak punya knowledge apa-apa dengan produk ini, aku langsung googling review GlamGlow Brightmud™ Eye Treatment ini. Aku juga sempat bahas produk ini dengan Agnes dan kami punya pendapat yang sama. Yuk, ini reviewnya..
GlamGlow Brightmud™ Eye Treatment berisi 12 ChromeCell
™
, yang berarti untuk dipakai 12x treatment, tapi karena isinya cukup banyak jadi bisa dipakai untuk 24x treatment.
I absolutely love the packaging, warnanya eye-catching karena hologram dan pas packagingnya dibuka ada tulisan 'Hello Sexy' hihihi..
Pas dipakai di area mata, efek dingin dari daun mint-nya berasa banget. Langsung sejuk rasanya..
"Non-Dry Tapwipe™ Bioactive Mud consists of powerful actives that help minimize puffiness, dark circles, and fine lines while brightening and hydrating the eyes. Natural high bioactivity materials and bentonites absorb toxins delivering high nutrients and minerals essential for ultrabright, amazing eyes. Simply tap-on to deliver the range of advanced active ingredients into the skin then wipe-off, leaving a micro layer of actives for extended results."
GlamGlow Brightmud™ Eye Treatment mengklaim produk ini dapat membantu mengurangi garis-garis penuaan pada area mata dan keriput, juga dapat mengurangi mata sembab.
Tapi seperti review-review yang pernah aku baca, produk ini ngga ngaruh-ngaruh bgt untuk mengurangi dark circles. Tapi produk ini menurutku bagus banget untuk ngurangin mata sembab karena lelah atau habis nangis (serius loh, beneran), kurang tidur atau pas lagi menstruasi (karena aku kalau baru menstruasi suka sembab matanya). Selain itu Eye Treatment ini cocok banget untuk dibawa traveling & long airplane trip, karena dipakainya juga praktis - cukup 3 menit lalu langsung dibersihkan dengan tissue kering.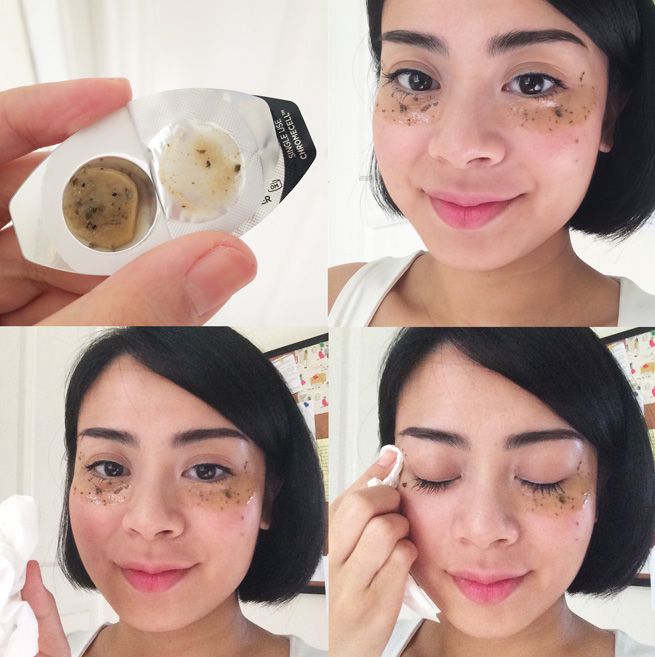 So far,
I like this product!
Karena sizenya yang kecil dan gampang dibawa, jadi aku sering bawa di
makeup pouch
aku supaya aku bisa pakai pas lagi di perjalanan menuju tempat meeting atau shooting. Berguna banget apalagi aku sering ketiduran dalam perjalanan. Plus tingkat kepraktisannya maksimal, karena tinggal dibersihkan dengan tissue kering aja. Aku juga suka banget sensasi mint-nya yang meninggalkan efek
fresh
dibawah mata.
Have any of you tried GlamGlow product?
Disclaimer:

All opinions and thoughts on everything featured on this blog are entirely my own.
People can be allergic to anything. I recommend that you patch test your skin the first time you use any of products. If any adverse reaction occurs, discontinue use immediately.