Have you heard of Wangsa Jelita?

Wangsa Jelita adalah salah satu karya anak bangsa yang memproduksi produk skincare dari bahan-bahan natural. Kebetulan banget aku bisa berkenalan dengan owner dari Wangsa Jelita yaitu Nadya, dan Nadya dengan baik hati mengirimkan beberapa produk jagoannya: Green Tea True & Natural Lotion, Green Tea True Natural Body Scrub dan yang terakhir adalah produk jagoanku, Relaxing Lavender Natural Beauty Oil.

Kenapa ini jadi favoritku?
Jadi ceritanya, sehari setelah aku dapat produk ini, aku secara ngga sengaja mau coba setelah mandi di gym. Setiap habis Zumba, aku selalu mandi pakai air hangat - lalu air dingin, tapi sehabis mandi kulitku rasanya justru kesat dan kering. Aku langsung cobain Relaxing Lavender Natural Beauty Oil ini.. and I LOVE IT! Aku juga sempat Googling tentang kenapa kulit jadi kering setelah workout disini.
WHAT I LOVE
This natural beauty oil makes my skin feel soft and hydrated after use, ngga lengket juga karena langsung menyerap di kulit. Wanginya juga enak dan relaxing.
Awalnya aku agak kurang percaya dengan packaging & tutup botolnya, karena aku kira gampang tumpah/bocor. Tapi ternyata packagingnya bagus!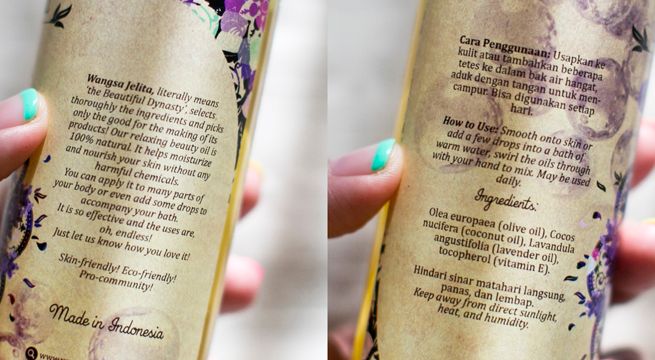 HOW IT WORKS
Olive Oil + Coconut Oil + Lavender Oil + Vitamin E - they are a wonderful natural way to make your skin soft.
HOW TO USE
Apply it post-shower or at night before sleep for maximum moisturizing benefits.
Untuk yang mau coba produk ini bisa order langsung ke www.wangsajelita.com. Happy shopping!