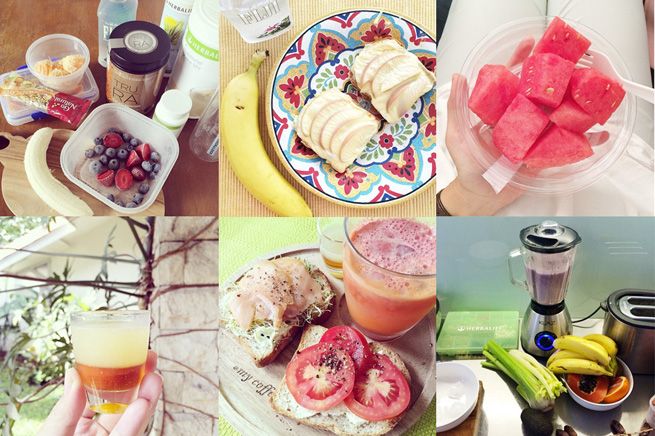 Bulan February lalu, aku ditawarin seorang teman yang berprofesi sebagai Entrepreneur & Wellness Coach untuk ikut program Healthy Lifestyle yang ia buat. Temanku tertarik ngajak aku karena aku sering post foto-foto Honey-Lemon Shot atau smoothies di Instagram. Dia bilang akan bantu aku untuk ngejalanin hidup yang lebih sehat. Akhirnya setelah ngobrol panjang lebar, aku diminta untuk coba beberapa produk Herbalife.
Awalnya aku ngga pernah percaya sama produk-produk kayak gini hahahaha.. Cuma kan ngga ada ruginya untuk coba sekali-kali. Sebelum coba produknya, aku juga ditimbang dan diberikan berbagai macam tips seperti pola makan, apa saja yang harus dimakan & apa yang tidak boleh dimakan, harus olahraga apa, dan tentunya (yang jadi masalah semua orang) adalahhhhh.. Gimana sih cara berkomitmen dengan hidup sehat?
Tepatnya 2 February 2014, hasil dari timbanganku mengatakan:
- Aku tidak punya massa otot
- Body age aku berumur 38 tahun, padahal aku 11 tahun lebih muda! *panic mode on*
Awalnya panik juga sih, wah masa aku umur segini tapi body age aku umurnya 38 tahun? Kebayang ngga sih jelek banget hasilnya? Akhirnya selama sebulan, bukan hanya mengkonsumsi produk-produk Herbalife, tapi aku juga jadi rajin olahraga & mengatur pola makan. Memang, susah banget ngatur pola makan! Apalagi aku doyan banget makan nasi sama gorengan.
Selain itu, di Jakarta susah cari tempat makan yang menyediakan makan sehat. Kira-kira dalam sebulan, begini pola makanku:
Pagi
Herbalife Protein Shake dicampur Soy Milk/Almond/Banana/Berries
Granola & Yogurt (optional – kalau belum kenyang)
Makan seperti biasa (kurangin nasi dan gorengan, banyakin sayur - aku ngurangin makan red meat karena aku takut kanker seperti ibu aku)
Setelah makan aku minum Food Suplement
Minum Detox Water (1 botol air dingin dicampur dengan potongan jeruk lemon, kadang ditambah daun mint)
Sore (after office hour/before workout)
Makan buah/salad/soup -
No carbo
Snack Bar (Go Natural/Fit Bar/Quaker Oats)
Ngga makan setelah jam 7pm.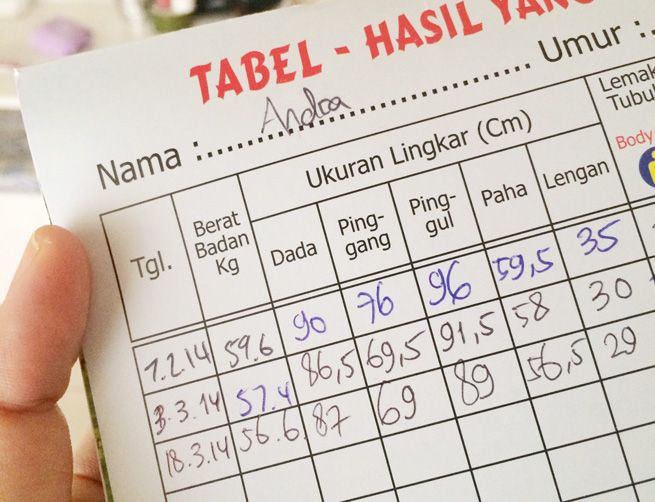 Setelah 2 minggu ngejalanin pola makan seperti ini, surprisingly perutku rasanya kempes! Setelah 1 bulan kemudian, I met my coach and he said, "Wow you look fresh!" Coach aku selalu mengingatkan untuk tidak tergantung dengan berat badan, tapi perhatikan ukuran badan yang berubah. Karena kalau kita sering rajin olahraga, otot akan terbentuk dan otot-otot tersebut tentunya bikin badan kita jadi nambah beratnya. Jadi aku ngga terlalu peduli dengan berat badanku (memang dari dulu susah bgt turunnya) tapi ukuran bajuku selalu mengecil. Dan aku selalu mengingatkan diri sendiri, "This is not a diet, it's healthy habit!"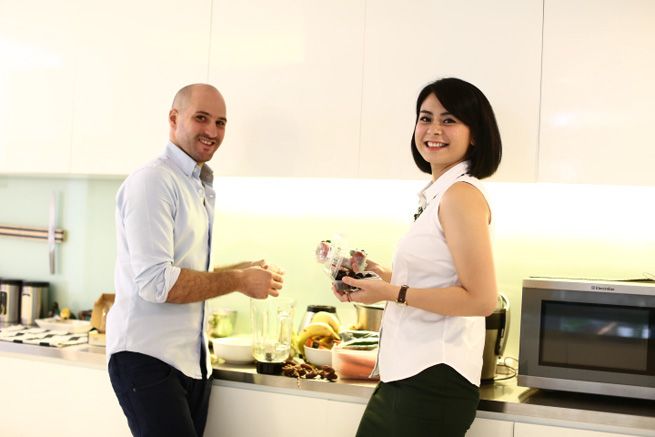 Me and my Coach, Itai
Ada beberapa tips yang dikasih oleh Coachku dan aku bisa share dengan kamu di blog ini:
1. It is very important that we are surrounded by people with positive energy and have a desire to live a healthy lifestyle as this will encourage us.
2. We cannot change what is in the past, even if we had made negative lifestyle choices, so look forward and set yourself a target. Whether it is to lose 3kg, to increase your stamina or quit smoking. These things take time, so the sooner you start the easier it becomes. – Targetku ngga muluk-muluk. Aku ngga ingin kurus-kurus banget kok, yang penting terlihat bugar, kulit muka sehat dan ingin badanku lebih kencang.
3. Fill your fridge and cupboard with healthy snacks and healthy produce. Make sure to keep lots of vegetables, fruit also add some health supplements, such as Herbalife, to ensure you get your daily intake of nutrients. – Jujur aja sejak menjalani hidup sehat, pengeluaran aku untuk makan meningkat hingga 2-3x lipat. Tapi ini tak seberapa, karena sehat adalah investasi di hari tua :)
4. Be prepared – take 5-10min extra each day to plan what you want to eat and drink. Sure it's easy to be lazy. But lazy doesn't get you results. Pack a healthy lunch, instead of eating out at restaurants or warung food each day.
5. Drink lots of water - Pack 1L / 2L of water and drink through the day. - Biar ngga bosen, bisa tambahkan potongan lemon, lime, mints atau berries. Detox water juga membantu kamu untuk mengurangi kolesterol.
6. Start your day with a healthy breakfast, to ensure you give your body the chance to compete with the stress and activity of each day. – Dulu aku sering banget breakfast dengan nasi goreng, bubur aya, telor ceplok, sosis atau instant noodle, dll. Sekarang? Ngurangin banget walaupun suka kepengen. Aku selalu breakfast dengan beberapa pilihan makanan sehat seperti roti gandum, granola, yogurt, segelas susu, buah-buahan dan aku selalu minum Honey-Lemon Shot supaya badan lebih segar.

More info: http://ishapeindo.com
Disclaimer:
All opinions and thoughts on everything featured on this blog are entirely my own.
Please consult a physician before going on any diet or detox plans.